2016
Prioritize objectives provided by the National Initiative for Consumer Horticulture (see Revised Goals/Objectives)
Identify literature review papers and databases to inform committee work
Committee Revised Goals/Objectives:
Frame, document and comprehensively measure the economic (including labor) impacts and benefits of consumer and community horticulture to create consistent, credible messaging for use by all industry sectors.
Help retail operations and community and consumer horticultural service providers succeed and increase their profitability through the development of better business and human resource management tools and technologies.
Promote and train our existing and future workforce to be more professional, knowledgeable, skilled, and safe through documenting industry employment demand and jobs and developing curricula that expand training to include soft and business skills in addition to science and technology.
Create a united and recognized voice by building partnerships among all sectors that contribute to consumer and community horticulture.
Stimulate and nurture business and employment opportunities in consumer and community horticulture as a professional option for young and beginning entrepreneurs.
2017
Cultivate '17 presence widespread
ASHS Presentation (Behe, Calabro, Hamrick)
Submitted comments to "Investing in Science to Transform Lives – USDA NIFA," Federal Register Document #: 2017-19714, pages 43325-43326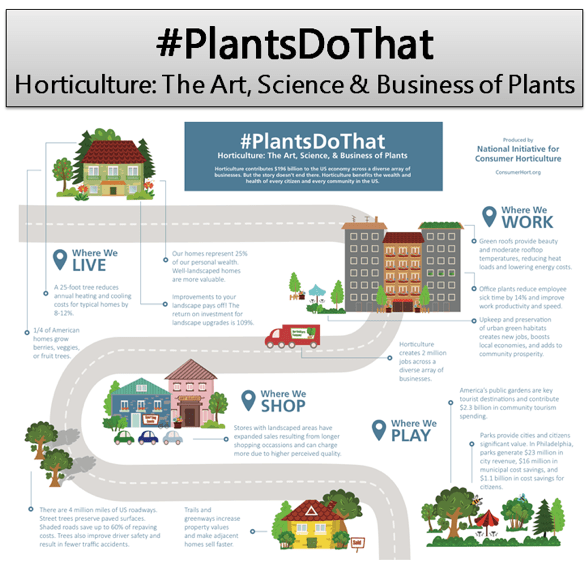 2018
Economic Survey (212 completed surveys)
HortTechnology manuscript: "The National Initiative for Consumer Horticulture: Focusing on the Critical Role of Communication and Collaboration to Further Research, Extension, and Industry goals."
GrowerTalks magazine editorial February issue
ASHS Poster Presentation (Behe, Calabro)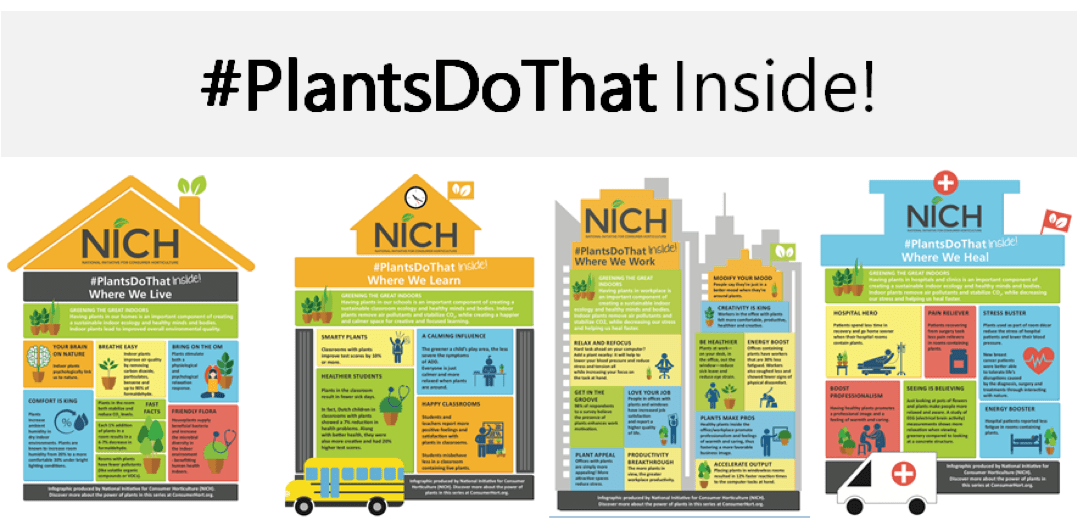 ---
NICH Economic Committee members
Ken Altman, Altman Plants
Dr. Bridgett Behe, Michigan State University
Dr. Natalie Bumgarner, University of Tennessee
Dr. Jill Calabro, AmericanHort
Janet B. Carson, University of Arkansas Cooperative Extension Service
Sylvia Gordon, Landscape by Sylvia Gordon
Danny Gouge, Willoway Nurseries
Jennifer Gray, AmericanHort
Dr. Charlie Hall, Texas A&M University
Debbie Hamrick (Committee Chair), NC Farm Bureau Federation
Dr. Marvin Miller, Ball Horticultural Co.
Steve Mostardi, Mostardi Nursery
Patrick Parker, Savatree
Dr. Dawn Thilmany McFadden, Colorado State University
Penny McBride, Vertical Harvest
NICH Industry Council:
Clint Albin, Clint Albin Consulting